Myeloid Proliferations Associated with Down Syndrome
Jump to navigation
Jump to search
Primary Author(s)*
Patricia T. Greipp. D.O.
General Disease Overview / Description of Cancer Category
Children with Down syndrome (DS), or constitutional trisomy 21 (OMIM #190685), harbor an increased risk (up to 150-fold over and above that for individuals without DS) for the development of acute myeloid leukemia (DS-ML) and an increased risk extends into adulthood. Newborns with Down syndrome have a predisposition for the development of a unique myeloproliferative disorder called transient abnormal myelopoiesis (TAM) which can be difficult to differentiate from AML and resolves spontaneously, usually in less than three months. However, a subset of these individuals go on to develop AML (20-30%) within one to three years. Both of these entities (DS-ML and TAM) are recognized in the World Health Organization (WHO) Classification of Tumours of Haematopoietic and Lymphoid Tissues as "Myeloid proliferations associated with Down syndrome"[1].
WHO Classification Pages (Includes Links to Content)
Other Related Pages (Includes Links to Content)
Put your text here
Additional Information
Transient abnormal myelopoiesis (TAM) associated with Down syndrome occurs in 10% of neonates, usually within the first 3-7 days of life[2][3], but since some patients are asymptomatic, the incidence is believed to be higher. Characteristically, leukocytosis with thrombocytopenia is present as well as circulating blasts, while bone marrow demonstrates megakaryocytic proliferation and basophilia[1]. Clinical features can include hepatosplenomegaly, plural or cardiac effusions, skin rash and organ failure. Acquired mutations in the GATA1 gene on the X chromosome (97% in exon 3 and the remainder in exon 3.1) were described in 2002 and are known to occur prenatally while hematopoiesis is active in the fetal liver[4]. The resultant truncated protein promotes megakaryocytic proliferation. GATA1 mutations are present in the blast cells of all cases of TAM and DS-ML and are recognized as pathognomonic. Upon spontaneous resolution of TAM, the GATA1 mutated cells undergo clonal extinction. However, full clonal extinction may not occur and the acquisition of secondary mutations (particularly in EZH2, CTCF, KANKSL1, SH2B3 and RAS pathway genes and sometimes JAK1, JAK2, JAK3) lead to manifestation of DS-ML[5]. DS-ML usually presents with a low leukocyte count, and pancytopenia is common with megakaryocytic blasts. However, the classic translocation associated with sporadic acute megakaryocytic leukemia (AMKL), t(1;22) with fusion of RBM15-MKL1, is not present. Monosomy 7 is also rare. Commonly acquired cytogenetic abnormalities in DS-ML include trisomy 8, 1q duplication, and 16q deletion[6]. Also in counterdistinction to AML in children without Down syndrome (particularly children <5 years of age), the clinical outcome for children with DS-ML with GATA1 mutation is favorable. These children should be treated with and adjusted chemotherapeutic regimen for AML. The outlook for children with DS-ML who relapse is poor[6].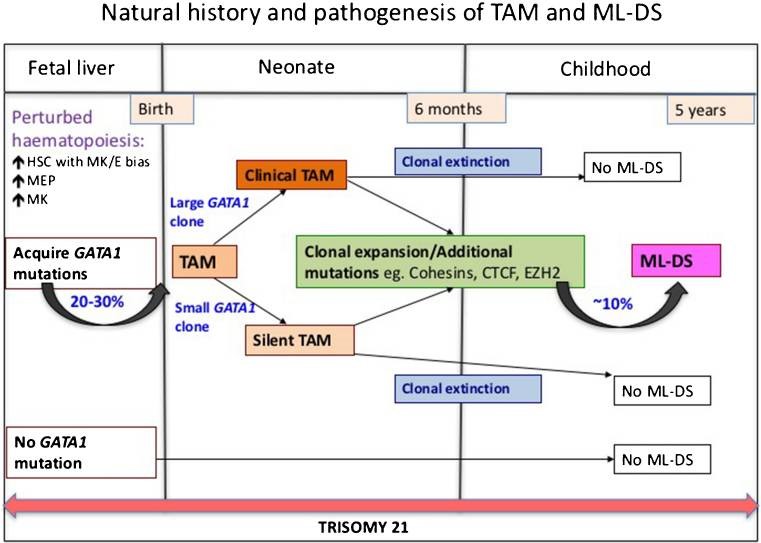 Natural History and Pathogenesis of TAM and ML-DS[7]
References
Notes
*Primary authors will typically be those that initially create and complete the content of a page. If a subsequent user modifies the content and feels the effort put forth is of high enough significance to warrant listing in the authorship section, please contact the CCGA coordinators (contact information provided on the homepage). Additional global feedback or concerns are also welcome.
*The hierarchical tumour classification structure displayed on this page is reproduced from the WHO Classification of Tumours with permission from the copyright holder, ©International Agency for Research on Cancer.