Anaplastic Large Cell Lymphoma, ALK-Positive
Jump to navigation
Jump to search
Primary Authors*
Sumire Kitahara, MD
Miguel Gonzalez Mancera, MD
Cedars-Sinai, Los Angeles, CA
Cancer Category/Type
Cancer Sub-Classification / Subtype
Definition / Description of Disease
Anaplastic Large Cell Lymphoma, ALK-Positive (ALK+ ALCL) is a T-cell lymphoma characterized by usually large lymphoma cells with abundant cytoplasm and pleomorphic nuclei, often horse-shoe shaped (see Morphologic Features below), with a chromosomal rearrangement involving the ALK gene resulting in expression of ALK protein and CD30
Synonyms / Terminology
Ki-1 (CD30) lymphoma - obsolete
Epidemiology / Prevalence
ALK+ ALCL[1]

~3% of adult NHL
10-20% of childhood lymphomas
Most frequent in the first three decades of life
Male:female = 1.5:1
Clinical Features
Most patients (70%) present with advanced (stage III-IV) disease and B-symptoms.[2]
Sites of Involvement[1]
Lymph nodes and extranodal sites (most commonly skin, bone, soft tissue, lungs and liver)
Bone marrow involvement detected in 30% when using immunohistochemistry (CD30 and EMA). Can miss marrow involvement by H&E evaluation alone, which detects involvement with ~10% incidence.[3]
Morphologic Features
Lymphoma cells characterized by eccentric, horseshoe-shaped or kidney-shaped nuclei, often with eosinophilic cytoplasm accentuated near the nucleus
Usually large in size, but may also be smaller
Present in varying proportions
Seen in all morphological variants/patterns of ALK+ ALCL
Morphological variants/patterns
Common (60%): predominant population of large hallmark cells
Lymphohistiocytic (10%): lymphoma cells are admixed with numerous reactive histiocytes that may obscure the lymphoma cells; lymphoma cells often cluster around vessels and are often smaller than in the common pattern
Small cell (5-10%): predominant population of smaller lymphoma cells; hallmark cells are often concentrated around vessels; may also see "fried egg cells" (pale cytoplasm with central nucleus) or signet ring-like cells; can misdiagnose of peripheral T-cell lymphoma, NOS
Hodgkin-like (3%): mimics nodular sclerosis classic Hodgkin lymphoma
Composite (15%): more than one pattern in a single lymph node
When lymph node is only partially involved, lymphoma characteristically grows in the sinuses, which may mimic a metastatic tumor.
Immunophenotype
ALK+ ALCL show the following staining pattern[6][7]:
CD30+: Cell membrane and Golgi; large lymphoma cells show strongest staining; smaller cells may show weak, partial to negative staining
ALK+: cellular location of ALK staining varies depending on ALK translocation partner. In the most common t(2;5), most cases show both cytoplasmic and nuclear ALK staining. In the small cell variant, staining is usually restricted to the nucleus
EMA+: some cases show positivity in only a proportion of lymphoma cells
CD3(-): >75% of cases are CD3-negative
CD4>>>CD8
CD2 and CD5: Majority positive
Cytotoxic marker(s)+: TIA1, granzyme B and/or perforin
CD45: variably positive
CD25+
BCL2-negative
Chromosomal Rearrangements (Gene Fusions)
ALK(+) ALCL is characterized by chromosomal translocations involving ALK gene, a receptor tyrosine kinase domain at 2p23.
Approximately 80% of cases show a cytogenetic translocation t(2;5) (NPM1-ALK, t(2;5)(p23;q35)) which fuses the ALK gene to the nucleophosmine (NPM) gene at 5q35, resulting in the overexpression and constitutive activation of a chimeric ALK fusion protein, which plays an important role in ALK-mediated oncogenesis.[8]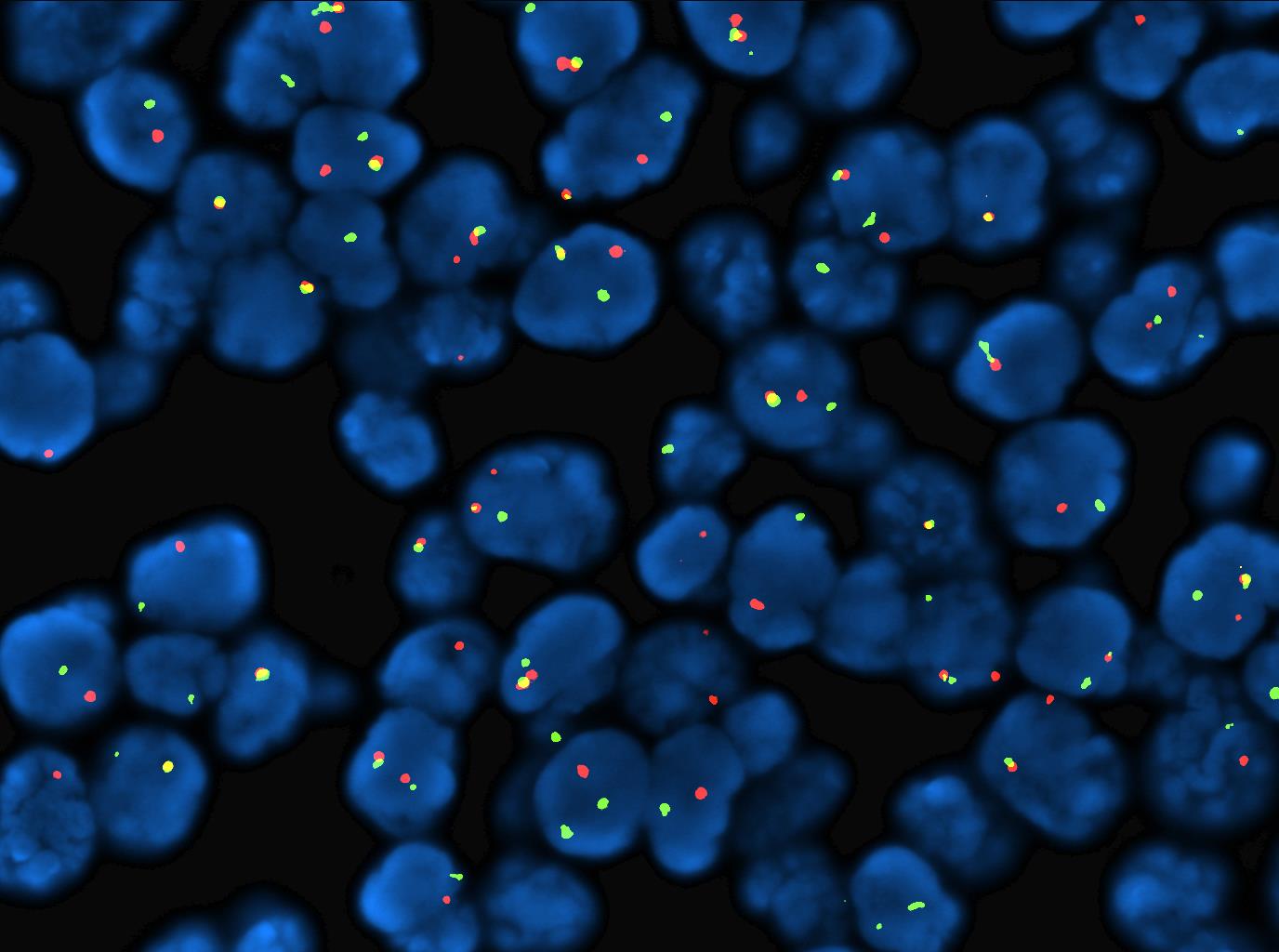 Table below shows described ALK translocations with ALK staining pattern, and frequency of cases. Of note, identifying the ALK fusion partner is not considered necessary in routine clinical practice.
Chromosomal

Anomaly

ALK partner
ALK staining pattern
Percentage

of cases

t(2;5)(p23;q35)
NPM1
Nuclear, nucleolar, diffuse cytoplasmic
84%
t(1;2)(q25;p23)[24]
TPM3
Diffuse cytoplasmic with peripheral intensification
13%
inv(2)(p23q35)[25]
ATIC
Diffuse cytoplasmic
1%
t(2;3)(p23;q12.2)[26]
TFG
Diffuse cytoplasmic
<1%
t(2;17)(p23;q23)[27]
CLTC
Granular cytoplasmic
<1%
t(X;2)(q11-22;p23)[28]
MSN
Membrane
<1%
t(2;19)(p23;p13.1)[29]
TPM4
Diffuse cytoplasmic
<1%
t(2;22)(p23;q11.2)[30]
MYH9
Diffuse cytoplasmic
<1%
t(2;17)(p23;q25)[29]
RNF213
Diffuse cytoplasmic
<1%
t(2;9)(p23;q33)[31]
TRAF-1
Diffuse cytoplasmic
<1%
Characteristic Chromosomal Aberrations / Patterns
See other sections.
Genomic Gain/Loss/LOH
Frequent secondary chromosomal imbalances are seen in ALK+ ALCL (58% of cases), as based on comparative genomic hybridization analysis[32].
| Chromosome Number | Gain/Loss/Amp/LOH | Frequency | Comment |
| --- | --- | --- | --- |
| 2q | Gain | 12% | |
| 4q | Loss | 28% | |
| 11q22 (ATM) | Loss, LOH | 28% | |
| 13q | Loss | 28% | Also see in ALK- cases |
| 7p | Gain | 12% | Also seen in ALK- cases |
| 17p13 (TP53) | Gain | 28% | |
| 17p13 (TP53) | Loss[33] | 9% | More common in ALK- cases (42%) |
| 17q24-qter | Gain | 28% | |
Gene Mutations (SNV/INDEL)
Limited literature on somatic mutations in ALK+ ALCL
Gene
Function or Presumed Mechanism
Frequency
LRP1B[34]
Tumor suppressor
19%
NOTCH1[35]
Activating
9.3% (T349P)

10.2% (T311P)

TP53[34]
Tumor suppressor
11%
Epigenetic modifier genes: KMT2D, TET2, EP300, KMT2C[34]
Other mutations: EPHA5

Negative genes mutations:
RHOA, DNMT3A, CD28: Mutations described in peripheral T cell-lymphoma (PTCL), NOS, and in angioimmunoblastic T-cell lymphoma (AITL)[38]
A variety of mechanisms for the acquired resistance to ALK inhibitors, such as crizotinib, have been described:
ALK kinase domain secondary mutations, including L1196 M, G1269A, L1152R, C1156Y, I1171T, F1174 L, G1202R, and S1206Y, have been identified as the key mechanism of resistance[41][42][43][44][45][46][47]
The G1269A mutation, in which the glycine at 1269 is substituted with an alanine, causes steric hindrance, resulting in decreased affinity for crizotinib.[48][49]
Epigenomics (Methylation)
NPM-ALK via STAT3-activated DNA methyltransferases[50] uses epigenetic silencing mechanisms to:

Downregulate tumor suppressor genes to maintain its own expression (i.e. to inhibit downregulation of NPM-ALK). Silenced tumor suppressors include:
Silence T-cell receptor complex and signaling pathway (CD3e, ZAP70, LAT, SLP76)[55]

Histone H3 lysine 27 (H3K27) trimethylation silences promoters of important T-cell transcription factor genes (GATA3, TCF1 and LEF1)[56]
Reader is directed to this review for more comprehensive review of epigenetics in peripheral T-cell lymphomas[57]
Genes and Main Pathways Involved
Activation of the ALK catalytic domain leads to the oncogenic properties of the ALK protein, leading to activation of multiple signaling cascades including[58]:

RAS-ERK
JAK/STAT

STAT3 is a pivotal transcription factor in most ALCL subtypes:

NPM1/ALK and variants lead to expression of ALK fusion proteins with constitutive ALK tyrosine kinase activity, which converges in the activation of the downstream oncogenic transcription factor STAT3[36][38].

PI3K/AKT/mTOR

ALK-NPM-STAT3 induces:

See Epigenomics section above
TGF beta, IL-10, PD-L1/CD274 to create immunosuppressive microenvironment and evasion of immune system[60][61][62]
ICOS expression (CD28 costimulatory receptor superfamily)
HIF1α expression induces expression of VEGF (tumor angiogenesis); allows lymphoma cells to adapt to hypoxic conditions[63]

Expression of embryonic genes (SOX2, SALL4) promoting stem cell-like program
Diagnostic Testing Methods
Diagnosis is based on histologic evaluation and immunohistochemical positivity for CD30 and ALK on the T-lymphoma cells.
FISH using an ALK breakapart probe or karyotype analysis can detect ALK translocations, but is not required for diagnosis as it can be established by morphology and immunohistochemistry.
Clinical Significance (Diagnosis, Prognosis and Therapeutic Implications)
Diagnosis
As stated above, the diagnosis is based on histology and immunohistochemistry
Prognosis
ALK+ ALCL has a better survival rate compared to ALK-negative ALCL

However, differences in patient age (younger in ALK+) may account for this better survival[71]

Different ALK translocation partners do not have prognostic significance
Survival is predicted by International Prognostic Index (IPI) with overall long term survival rate approaching 80%
Detecting minimal residual disease by PCR for NPM1-ALK (not readily commercially available) in bone marrow and peripheral blood during treatment could identify patients at risk of relapse[72]
Small-cell or lymphohistiocytic patterns tend to present with disseminated disease and have a less favorable prognosis than the common pattern[73]
NOTCH1 may be a biomarker for risk of relapse[35]
Therapy
CD30 expression on ALCL (ALK+ or ALK-) allows for targeted therapy[74]

First-line therapy: Brentuximab (anti-CD30) vedotin + CHP (cyclophosphamide, doscorubicin, and prednisone)

ALK inhibition (crizotinib) can be an effective 2nd-line therapeutic strategy as ALK is essential for the proliferation and survival of ALK+ ALCL cells[75][74][76]

Drug resistance may develop due to:

Mutations of the ALK gene impairing binding of the inhibitor[77]; other ALK inhibitors are not currently FDA-approved for use in ALK+ ALCL
See also gene mutations section above
Engagement of other cell signaling pathways

Preclinical models suggest role of:

Combination therapy with hypomethylating agents (such as azacitidine) and epigenetic modifying drugs (such as romidepsin, a histone deacetylase inhibitor)[78]
Inhibitors of HSP90 and mTOR inhibition[77]
NOTCH1 inhibition by γ-secretase inhibitors (GSI) in combination with crizotinib may provide synergistic anti-tumor activity, or as a single agent in ALK-inhibitor resistant cell lines[35]
Familial Forms
Other Information
Links
References
Notes
*Primary authors will typically be those that initially create and complete the content of a page. If a subsequent user modifies the content and feels the effort put forth is of high enough significance to warrant listing in the authorship section, please contact the CCGA coordinators (contact information provided on the homepage). Additional global feedback or concerns are also welcome.